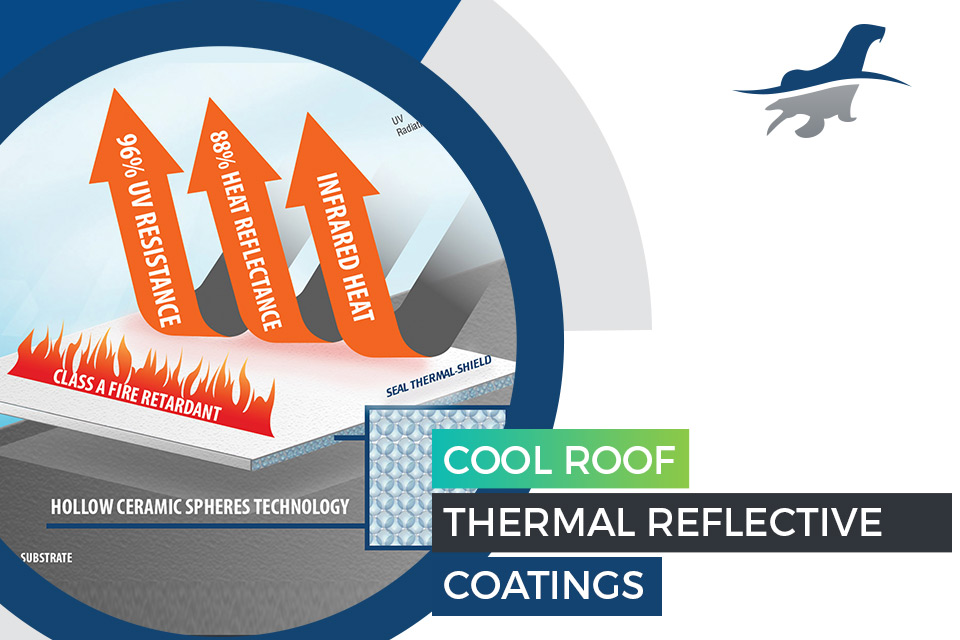 Cool Roof Technology Using Thermal-Shield Roof Coating
Thermal Insulation Coating Improves Efficiency And Reduces Energy Costs
Seal Thermal-Shield RF Cool Roof is a High Performance thermal insulation 100% acrylic elastomeric coating based on the latest coatings technology with High Tech insulating ceramic microspheres and with a high solar reflective index (SRI). These properties help reduce electricity by lowering roof temperatures on hot, sunny days.
Seal Thermal-Shield RF (Cool Roof) forms an elastomeric heat barrier by, resisting over 95% of UV; refracting, reflecting and dissipating up to 75% of the heat thus reducing heat conduction. With this phenomena, heat entering your roof is significantly reduced. The thick rubber-like ceramic reinforced shield expands and contracts with varying hot and cold Temperatures to resist thermal shock. Seal Thermal-Shield RF Cool Roof Technology offers superior mildew resistance, anti-bacterial, sound dampening, infrared heat resistance, UV ray reflectivity and corrosion resistance.
Seal Thermal-shield RF - Cool Roof Benefits
Seal Thermal-shield RF Products Keep's Buildings Cooler In The Summer And Warmer In Winter By Reducing Heat Transfer Through Roofs.
Seal Thermal-Shield RF - Cool Roof helps to counter the "urban heat island" effect by reflecting 70% of the sun's hot rays.
Some of the benefits of applying Seal Cool Roof Coating:
Reduces internal temperatures by up to 45%
Increased thermal protection and saves energy
Seals and waterproofs
Eliminates blistering, peeling & cracking
Stops and prevents any further corrosion
Can be tinted to any desired Pascal colour
Nontoxic and environmentally friendly
Easy to apply
Very low maintenance/repair cost
Excellent bonding to most substrates
Mildew and bacteria resistant
Non combustible Class A Fire Retardant
and much more…